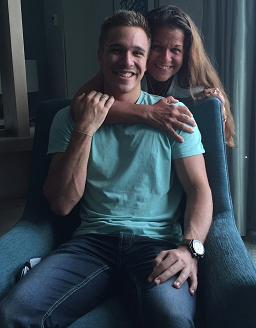 Debbie Franek, and her husband Andy, were very intentional in raising their 3 children. They made great effort to follow healthy habits, have great nutrition, use holistic healing & natural products, instill an appetite for learning, a strong faith and to be in service to others. When their youngest son Andrew moved out of state to pursue a career in firefighting, they felt they had given him the best foundation of health that they could. Then Andrew got sick his first week on the job, but they all thought his healthy immune system (along with some meds) would help, him get well quickly. Instead, Andrew/s immune system began to attack his body, affect his nervous system and actually paralyze it through a rare illness called Guillain- Barre Syndrome (GBS). 
Debbie walks us through this journey from the first worried call, the 10 hour trip from FL to TN, the weeks long hospital stay, the isolation and horror of watching her son deteriorate from GBS to the point of being ventilated and her reaction the night Andrew coded. She shares what it was like to be on this journey with her child as they literally fought beside him for his life and future.  All great journeys teach something along the way and she shares all that she learned and experienced from her perspective. 
There is so much more to Andrews story! So many incredible details that were not mentioned in the interview as well as Andrew's own words in this Youtube video of Andrew's Story :Guillain-Barre Syndrome at https://youtu.be/VWvrHhs2jps
Debbie Franek is a certified aromatherapist, yoga teacher, birth doula, Reiki healer, and trapped emotions release facilitator. She would love to connect with listeners through Facebook (just search her name) to talk about GBS or any of the other things mentioned in the episode.